Maria is one of South Australia's leading Dance/Drama Specialists. She is an educational pioneer committed to developing high quality dance programmes that teach values to children from pre-school to adulthood. The Seed of Life 3 - 6 years, The Seedling and the Tree of Life 7 - 10 years, The Flower and the Fruit of Life 15 - 20 years, are innovative programmes that link physical and inner health to social and environmental peace through dance. Maria's focus on the core value of love and its capacity for developing children into compassionate, respectful, caring people, is a key theme in her work.
Maria's first programme 'The Seed of Life' is available for bookings. See flyer below for more detail:

DOWNLOAD 'SEED OF LIFE'
Maria's new artistic peace programme 'Walking the Peace Path' is also available for bookings. See flyer below for more detail:
DOWNLOAD 'WALKING THE PEACE PATH'
MARIA'S PHILOSOPHY ON THE LABYRINTH
CLICK HERE TO READ TESTIMONIALS
To contact Maria direct please email msavant@danceforpeace.com.au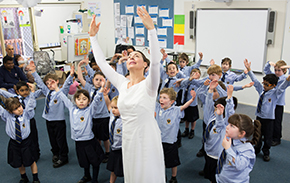 The Seed of Life, 2013
Maria is a dancer, a singer/songwriter, a playwright and a performer. She has trained extensively in Classical Ballet and in Contemporary and Folkloric dance for more than twenty five years. Having studied Folkloric and Operatic singing, Maria also has a powerful and expressive voice.
As a bi-lingual artist, Maria has written several dance/drama plays in both Greek and English. In 2020 Maria produced and directed two new films - Homecoming and Meditation In Dance, thus enabling her to extend the narrative of her plays through the medium of film. All of Maria's theatre and film work is deeply spiritual.
Her dance/drama plays are:
A Sister's Lament
The Wellspring of Life
Enter the Mystery
Songs for the Beloved
Homecoming
Maria's most recent dance/drama show explores the themes of the earth, inner peace, cosmic love and unity consciousness.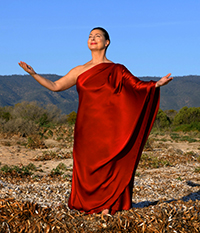 HOMECOMING
October 22nd at 2pm
Tickets $25 Box office | Northern Festival Centre 

As a woman of Spirit, Maria has brought great compassion and understanding to the lives of many who have been supported by her strength and wisdom. Her healing work over the past twenty five years together with her many years of community service on numerous committees and boards, is testament of her love of people and her passion for making this world a better place.
Her focus on imporving the wellbeing of community is based on the science of teaching stress reduction through mindful meditation. Her training of educators, professionals and the community through The Savant Mindful Meditation Program : deceases stress, tension, anxiety, calms the mind, opens pathways in the brain and connects participants, to inner peace.
Maria's creation of a beautiful labyrinth pathway is an artistic tool through which Walking Meditation is taught. As participants follow the path of the labyrinth, they are led into a place of deep peace. Maria's three programmes offer a simple, direct and profound way in which to locate inner peace. See flyers below.
DOWNLOAD THE SAVANT MINDFUL MEDITATION PROGRAM FOR COMMUNITY
CLICK HERE TO READ TESTIMONIALS